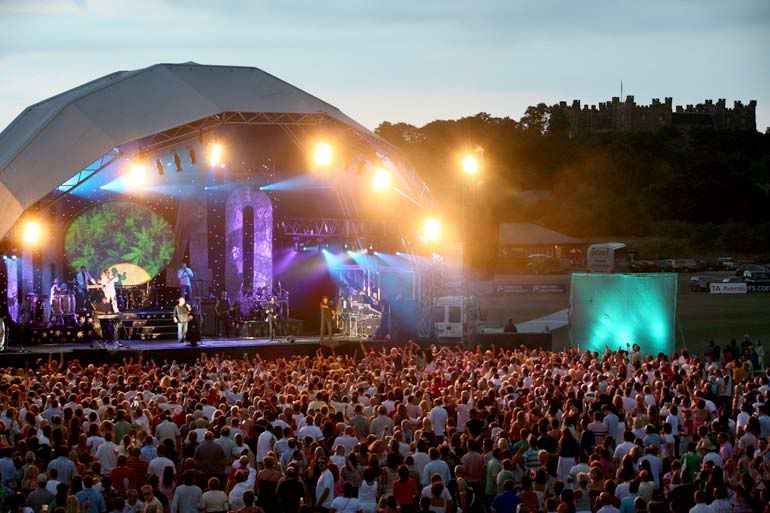 Sunburn on your back, ringing ears, and an empty wallet. Those are the signs of a successful weekend music festival. As soon as the weather warms up, music junkies come together to bring some of the best artists in the industry out to perform around the country. Here is a run down of the biggest, most jam-packed and best concerts this spring and summer.
Known for its California roots, Coachella is a music and arts festival in a desert- like setting. The event is two weekends long and all artist sets are the same Friday, Saturday and Sunday of each day.
When: April 13th-15th and April 20th-22nd
Where: Empire Polo Club
Price: All festival passes are sold out
Line-up highlights: The Black Keys, Bon Iver, Feist, M83, M.Ward, Dr. Dre, Florence + the Machine, Girl Talk, Beirut, Arctic Monkeys
Sponsored by Sweetgreen, this one-day concert, 40 minutes outside Washington, will have food from a range of DC vendors like Baked and Wired, Jose Andres' Pepe Truck, Honest Tea and Serious Eats.
When: Saturday, April 28
Where: Merriweather Post Pavilion
Price: $75 general admission, $125 for V.I.P. access
Line-up highlights: Avicii, Kid Cudi, The Shins, FUN., Delta Spirit and The Knocks
Bamboozle
Asbury, New Jersey
One of the biggest concerts on the East Coast, Bamboozle has been showcasing rock- based artists for 10 years.
When: May 18th to 20th
Where: Asbury Park
Price: General admission 3 day pass, $190
Line-up highlights: Skrillex, Mac Miller, Foo Fighters, Blink-182, The Maine, Bon Jovi, Boys Like Girls and Brand New
Bonnaroo
Manchester, Tennessee
One of the most influential festivals down south, Bonnaroo has evolved so much as an event has a "Bonnaroovian Code." The mix of performers makes for a unique experience.
When: June 7th to 10th
Where: a 700-arce farm turned campground in Manchester
Price: $259.50 for 4 days
Line-up highlights: Radiohead, Red Hot Chili Peppers, Young The Giant, The Shins, The Beach Boys, Foster The People, Ludacris, Mac Miller and The Temper Trap
This annual festival is know for bringing power house popular alternative rock, heavy rock and hip pop bands along with craft booths and comedy performances.
When: August 3th to 5th
Where: Grant Park
Price: $230 regular 3-day pass
Line-up highlights: (Just announced!) The Black Keys, Red Hot Chili Peppers, Jack White, Florence + The Machine, Passion Pit, Bassnectar, The Shins and Miike Snow. View the complete Lollapalooza 2012 lineup here.
These are just some of the highlights for this season. For a complete list, check out Music Festival Junkies to get the run-down. Happy concerting!
Photo credit: http://cdn.gunaxin.com/wp-content/uploads/2010/05/summer_concerts.jpg
You Might Also Like...