For collegiettes everywhere, finals are starting soon—which means summer is just around the corner. The taste of perfectly squeezed strawberry lemonade, cold ice cream, and freshly cut fruit are the foods that come to mind when thinking about poolside days. Start prepping for the season by perfecting summer dishes. Here some of the best recipes to try when classes are out and warm weather is in.
Brazilian Lemonade 
When I first saw this recipe I thought "Brazilian"? But, after reading the reviews from Allrecipes.com that gave the drink 5 stars, I knew it was something tasty. This snack can be prepped and ready in 10 minutes and serves 4. 
Ingredients:
2 Limes
1.2 cup sugar
3 tablespoons sweetened condensed milk
3 cups water
Ice
Directions:
Wash limes. Cut off the ends and slice into eight wedges. Place limes in a blender with the sugar, sweetened condensed milk, water, and ice.
Blend in an electric blender, pulsing 5 times. Strain through fine mesh strainer to remove rinds. Serve over ice.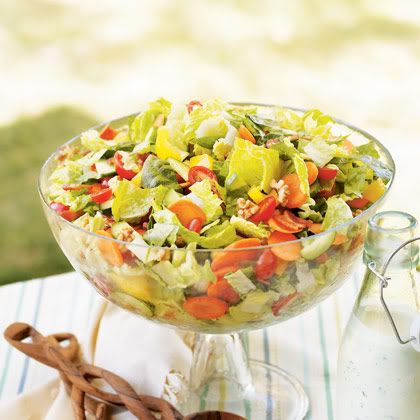 Chop Chop Salad
Hearty and filled with bursts of flavor, this salad is especially yummy in the summer time. It goes great with Creamy Blue Cheese or Old-Fashioned Buttermilk Ranch dressing when on a picnic or stuck inside on a rainy day. Serves 6.
Ingredients:
1 romaine lettuce heart
4 to 6 slices thick-cut bacon, cooked until crisp, cooled, and chopped
1/2 pint grape tomatoes, halved
2 carrots, peeled and thinly sliced
1 yellow bell pepper, chopped
1 English cucumber, halved lengthwise and thinly sliced
1/2 cup chopped walnuts
Coarse salt and freshly ground pepper to taste
Directions:
Chop the lettuce heart into 1- to 2-inch pieces. Combine it with the bacon, other vegetables, and nuts in a large bowl and toss the mixture well.
Keep the salad chilled until serving time. Then toss it again with enough dressing to lightly coat the vegetables, and season it with salt and pepper.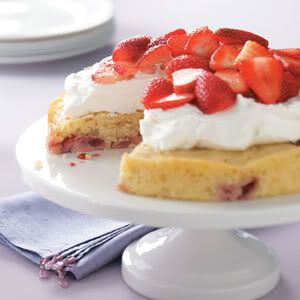 Lemon-Berry Shortcake 
Perfect for America's birthday, this 4th of July treat is a quick and easy classic. It serves 8, takes 30 minutes for prep and needs 20 minutes to bake. 
Ingredients:
 1-1/3 cups all-purpose flour
½ cup sugar
2 teaspoons baking powder
¼ teaspoon salt
1 egg
2.3 cup buttermilk
1.4 cup butter, melted
1 tablespoon lemon juice
1 teaspoon grated lemon peel
1 teaspoon vanilla extract
1 cup sliced fresh strawberries
Directions:
In a large bowl, combine the flour, sugar, baking powder and salt. In another bowl, combine the egg, buttermilk, butter, lemon juice, lemon peel and vanilla. Stir into dry ingredients just until moistened. Fold in strawberries. Pour into a greased and floured 9-in. round baking pan.
Bake at 350° for 20-25 minutes or until a toothpick inserted near the center comes out clean. Cool for 10 minutes before removing from pan to a wire rack to cool completely.
If you love toppings, add on 1-1/2 cups sliced strawberries, 1 tablespoon lemon juice, 1 teaspoon sugar and 2 cups of whipped topping. 
Want more of HCAU-approved recipes? Follow Her Campus American on Pinterest!
Credits:
http://allrecipes.com/recipe/brazilian-lemonade/detail.aspx
http://familyfun.go.com/summer/summer-recipes/summer-salads/chop-chop-salad-687656/
http://www.tasteofhome.com/Recipes/Lemon-Berry-Shortcake
 
You Might Also Like...