If you're a female college student, you probably have a Pinterest account (if you don't, your productivity is likely much higher than mine!). Pinterest is teeming with fantastic ideas for home décor, fashion, and crafts, and many of them contain vintage and antique items. Using vintage in your décor is an excellent way to add the same charm and personality that you see in catalogues for stores like Anthropologie without breaking the bank.
I've always had a slight obsession with vintage. Until I got into the business of buying and selling it in my Etsy shop a year ago, I thought the antique store was the only place in Tuscaloosa to find it. Thank goodness I was wrong! Here's a list of the best places around Tuscaloosa to look for vintage and antiques, complete with tips I've learned as a buyer and seller of vintage goods:
Antique Malls
Skyland Antique Mall and Almost Antiques in Tuscaloosa are two of my favorite antique stores in Tuscaloosa, and both are overflowing with fantastic vintage items. While the prices on some items can be a little high, there are many bargains waiting to be found if you look hard enough.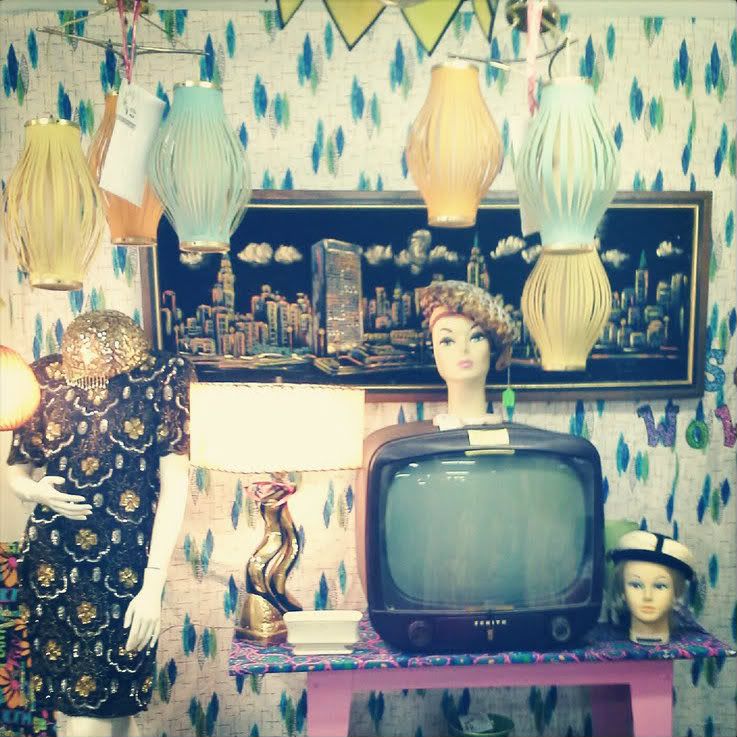 Dealers in these stores often rotate items each week, so check back often, and look for signs that indicate a booth sale. Typically, the dealers switch items up on Fridays and Saturdays, so these are great days to check for new items.
What's on Second in Birmingham is a fun, colorful shop full of retro vintage collectibles and décor. If you have some time to kill, I definitely recommend spending an afternoon shopping for vintage in this shop. There is so much to look at! (Side note: when you're done, hit up the cute little café nearby called Urban Standard for some good food and relaxed atmosphere.)
Pro tip: Bring a friend to look for vintage with you. It's so much more fun having someone to laugh with about crazy finds, and you'll have an extra set of eyes to help you spot good deals.
Vintage Shops
If you love vintage clothing but haven been to Prose & Palaver yet, you are missing out. Last semester, Her Campus Alabama had the pleasure of working with Prose & Palaver, one of the businesses that donated outfits for the charity fashion show.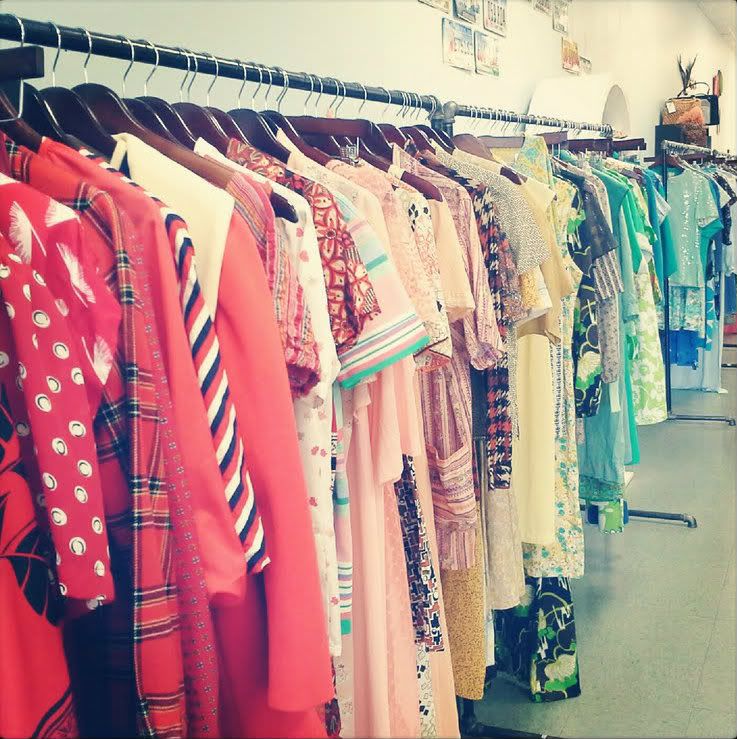 The owner, Mandy, keeps her shop stocked with trendy and unique wearable vintage. Whether you need something casual, formal, or even a costume for a decade theme-party, there are many options to choose from at Prose & Palaver. There's even a guy's section too, so bring your man!
Grace Aberdean is an eclectic art & vintage store that has décor, housewares, furniture, clothing, accessories, and more. It's a fun shop to look through, especially to find that one-of-a-kind gift. If you are looking for vintage jewelry, belts, and scarves, you'll want to start here. There's plenty here for guys as well. During the school year, Grace Aberdean has its "First Friday" night on the first Friday of every month, and everyone comes out for food, drinks, entertainment, art, and community. Be sure to check it out!
Thrift Stores
The major thrift store in Tuscaloosa is America's Thrift, and it can be a treasure trove for vintage. If you visit it on a regular basis, you will be more likely to score something extraordinary. Don't be discouraged if you walk out with nothing the first couple of times you go. I've been thrifting for over a year now, and I still leave thrift stores without finding anything worth selling or displaying in my home.
Another one of my favorite thrift stores is The Foundry in Fairfield, AL (they just moved to a new location from Bessemer).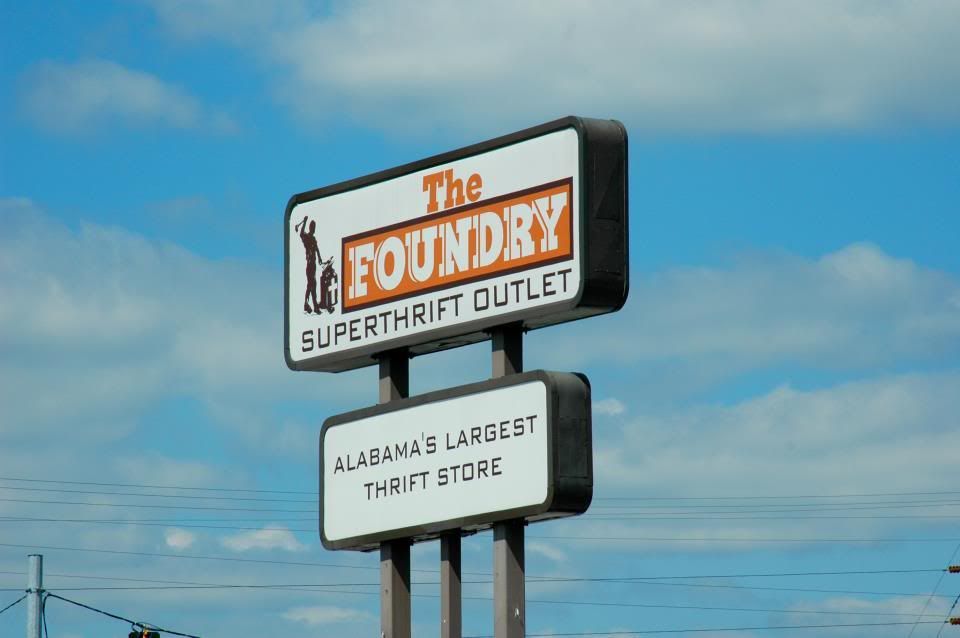 Their mission is to help recovering addicts, ex-inmates, and the homeless by providing them with jobs, emotional support, and educational opportunities. The new store is spacious, and they usually carry more furniture than America's Thrift in Tuscaloosa. I rarely leave The Foundry without finding something I like.
Pro tip: Don't go to thrift stores on Saturday unless you like to crowd surf and listen to babies crying. This is the day most people go, and it can be miserable in all the chaos.
Estate Sales
Imagine a house full of vintage, and everything is for sale. Sounds wonderful, right? Estate sales make this dream come true. Most weekends there is at least one estate sale in Tuscaloosa, and several more in Birmingham. Sales usually run Friday through Sunday (though bigger sales may start on Wednesday or Thursday) and start early in the morning. The best site to look up current and future sales is Estatesales.net. If you can't make it to the first day of the sale, no worries! Nearly every sale will cut prices in half on the last day.
Pro tip: Bring a large tote bag or basket with you to estate sales for hands-free shopping. As you walk through the sale, place your items in the bag or basket until you are ready to check out.
Thrifting for vintage is one of my favorite things to do because I never know what I may find. Hopefully this list will inspire you to go out and thrift for vintage. You may discover a new favorite local hotspot!
Want to learn more? Surf on over to these sites:
Skyland Antique Mall http://www.skylandantiques.com/
Almost Antiques http://www.facebook.com/pages/Almost-Antiques-Thrift-Store/127664000606146
What's on Second http://www.facebook.com/whatsonsecondbirmingham
Urban Standard http://urbanstandard.net/
Prose & Palaver http://www.proseandpalaver.com/
Grace Aberdean http://graceaberdean.com/
America's Thrift in Tuscaloosa http://www.facebook.com/atstuscaloosa
The Foundry http://www.facebook.com/thefoundrymission?fref=ts
You Might Also Like...