Two Fraternity Brothers Got Married & Their Love Story Is Amazing
While fraternities are known for their tight brotherly bonds, two Delta Phi Upsilon members turned that bromance into romance and have never looked back. On April 15, the 10-year anniversary of their first date, Adrian Homer and Harrison Guy tied the knot in Houston in a joyous, colorful and oh-so-chic ceremony.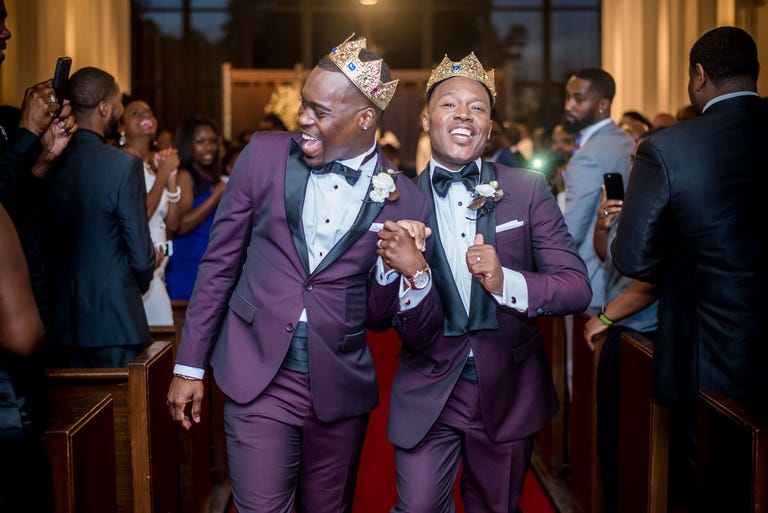 The two met when Adrian was pledging Delta Phi Upsilon at Prairie View A&M University outside of Houston, Texas, and Harrison, a fraternity alumnus, was assigned as his mentor during the pledge process. While Adrian was pledging, Harrison explains they "weren't able to speak romantically," but after he was initiated, they began texting, and Adrian soon confessed he had developed feelings for Harrison. Despite their nine-year age gap, "it was history from there," as Adrian told The Houston Chronicle. "We hung out throughout the week and every weekend. The relationship just kind of happened."
Though some might find their bond as both fraternity brothers and boyfriends taboo, Harrison said, "I don't think it was weird for either one of us." He added, "I think people would love to be able to say we have this 
organization of black gay men, and we are never are romantically involved with 
each other, because we are brothers. I don't share that idea. I'm on the other end of the spectrum, where I believe if this is a cohort of the best men
 available, then why not?" 
Delta Phi Upsilon is a national fraternity whose mission is to "build better brothers by encouraging intellectual achievement, improving the public stature of gay people, promoting unity among gay men and support a progressive interest in the social and civic welfare of such men." Harrison told NBC News that "organizations like Delta Phi Upsilon allow black gay men a space
 where we can explore empowerment, which I think is really important." Adrian added, "I wanted to join an organization where I can be comfortable 
with my actual sexuality." That acceptance and empowerment led to a decade-long (and counting!) love affair.
The wedding was three years in the making, after Harrison proposed to Adrian on their seventh anniversary. Harrison told NBC News, "We went to eat at a jazz restaurant, and we got on a 
horse and carriage, and once we got to the gazebo, Adrian saw the rose petals on 
the floor. The rose petals led up to the gazebo, and there was a guy 
singing a John Legend song with an acoustic guitar and two male dancers. I 
proposed to him in that moment." According to the Chronicle, neither can remember what John Legend song it was exactly, but we don't blame them for being too wrapped up in each other to notice—or care.
When the big day finally arrived at the University of 
Houston's A.D. Bruce Religion Center, they were surrounded by 250 of their friends and family. "There was so much emotion," Adrian told the Chronicle. After their mothers walked them down the aisle, Harrison surprised Adrian during their vows by pulling out a frozen cookie he'd saved after one of their first dates. "If a fragile cookie could sustain 10 years, then our love can last forever," he told Adrian. Delta Phi Upsilon also played a special role that day—six of their fifteen groomsmen were their fraternity brothers.
In a time of seemingly endless bad news and discord, this story renews our faith in humanity—and in love. Now we just can't wait for someone to make a rom-com based on this real life fairytale. Neighbors 3, anyone?