Coachella Is Suing Free People for Trademark Infringement
It's no secret that Free People is the ideal place to hit for all your festival fashion needs - but the brand may have taken its role as a festival fashion go-to a little too far.
Cosmopolitan reports that Coachella is suing Urban Outfitters, Free People's parent company, for trademark infringement. Apparently, the brand created a few pieces like the "Coachella Mini Dress," the "Coachella Boot and a "Coachella Valley Tunic" - none of which sat well with the festival. The items in question have since been removed from Free People's website, but screengrabs from a few days ago show that the pieces were indeed for sale on Free People's website.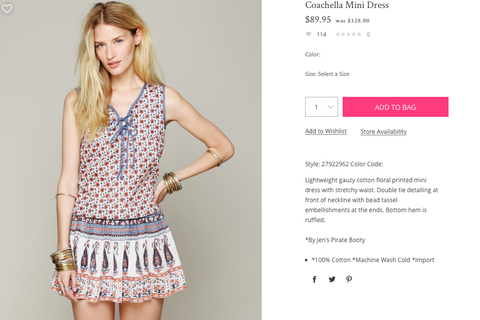 The suit says that Free People is, "trading on the goodwill and fame," of the festival, and that it competes with their legitimate partnerships, such as their collaboration with H&M.
As Mashable points out, Urban Outfitters is no stranger to controversy over the use of others' names and designs before - they were last hit by a lawsuit in 2012 by the Navajo Nation after creating products branded with the Navajo name.
And as one Twitter user cleverly put it, considering many Coachella attendees' tendency to culturally appropriate when dressing for the festival, the whole notion of the festival suing Urban Outfitters for appropriating its name and brand is kind of weirdly ironic.
this is what Coachella suing Urban Outfitters looks like pic.twitter.com/FuFVOGPoJs

— finch (@tamia707) March 18, 2017