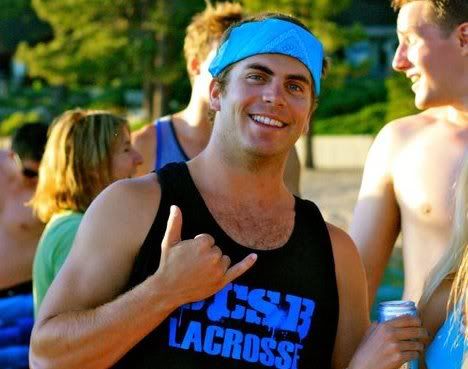 Name: Taylor Gilbert
School/Year: University of California at Santa Barbara '12
Major: Statistical Sciences
Hometown: Encinitas, CA
Relationship Status: None
Career Aspirations: Start my own Marketing Analysis Company
Campus Involvement: Lacrosse
What are your favorite things to do in IV? BBQ's, Listening to country outside on sunny days, watching the sun rise after long nights out.
What is your favorite college moment? Too many. Thats an unfair question to someone at UCSB. Probably easier for someone at a different school.
What is a fun fact about yourself? I own every Boy Meets World episode and listen to Christmas music year round.
What is your favorite food? Pumpkin Pie 
Describe your perfect girl? Fun, easy going, sarcastic, smart, athletic, and can cook. 
What qualities in a girl turn you off? Lack of good running form or make big deals about nothing. 
Relationship advice for girls? Dont do what girls do on Tv shows like gossip girl or whatever. Be the opposite.
Celebrity crush? Rachel McAdams
Three words that best describe you? 5'10", 185lbs, Blue eyes. At least thats what's on my drivers license. 

Pages
You Might Also Like...