As we go on, we remember, all the times we, had together. And as our lives change, come whatever, we will still be, friends forever.
It's graduation time, so Vitamin C's classic hit, "Graduation (Friends Forever)" might be stuck in your head right now. And when you're not humming "Pomp and Circumstance," suffering from grad-depression, or calculating how you're going to afford life in the big city — you're thinking about graduation day. And what comes with graduation day? Graduation gifts! You'll be giving them and getting them, and after 16 years of schooling, your brain might be the teensiest bit fried. Never fear: Her Campus's Ultimate Graduation Gift Guide is here! While it will be super challenging to find and propose a gift capable of soothing the harsh pain of graduating, everyone wearing a cap and gown expects you to try… and try really hard. So to help you out, check out our list of the best graduation gifts so that you can make their transition from student to… adult (really?) a little easier.
TECH
For the Wireless Girl

The first thing that comes to mind when you think tech-y gifts is obviously an iPad. Sure it's quickly become a cliched present, but that doesn't mean you'll find anyone who will turn it down. So collegiettes: add it to your lists & parents/grandparents/aunts/uncles/godparents: chip in so you can make your grad delighted! Starting at $499
For the Photographer

After college, the number of 'going out' shots on Facebook will quickly decline, but that doesn't mean grads don't want a camera to capture all of their moments. With this Samsung Wi-Fi digital camera, your grad can upload photos to Facebook or videos to YouTube right from their camera. Plus: let them open it early so they can capture the perfect shot with diploma in hand! $88
For the (former!) Couch Potato

She'll be off her butt now in the working world, but if you get your favorite collegiette this Vizio 22' inch TV, she can kick her legs up after work and relax like she used to back at school. The only downside? Girl's gotta start paying her cable bill! Ugh. $195
For the Driver

Commuting? Traveling for work? If your graduate will be logging in a lot of miles in her new gig, she will flip for a subscription to Sirius XM Satellite Radio. Unlike many post-collegiettes she'll still know what music is "hip" by listening to the commercial-free radio! $199 for a year.
For the Grad Who is Going Off Into the World

Graduating from school in Massachusetts and moving to San Francisco? Your graduate is going to be missing her friends and family! What can YOU do about it? Get her a Logitech webcam! This way she can Skype with her family and friends when she's not busy exploring her new city. $51
For Anyone & Everyone

After four years of papers, downloading music, and coffee spills, odds are your collegiette needs a new laptop. The HP Folio Ultrabook will be a great replacement for her current computer, so she can continue to email, surf the web, and watch YouTube flicks from the comfort of her bed. $870

SENTIMENTAL  
For Saying Goodbye to Your BFF

Parting ways with your college BFF is tough. While you can't have her hugs around you anymore, you can give each other this Friends Forever Necklace (retro, we know!) inscribed with "A friend is someone who knows the song in your heart and can sing it back to you when you have forgotten the words." She'll always think of how much you two mean to one another, even from miles away. $60
For the Proudest Grad – Sponsored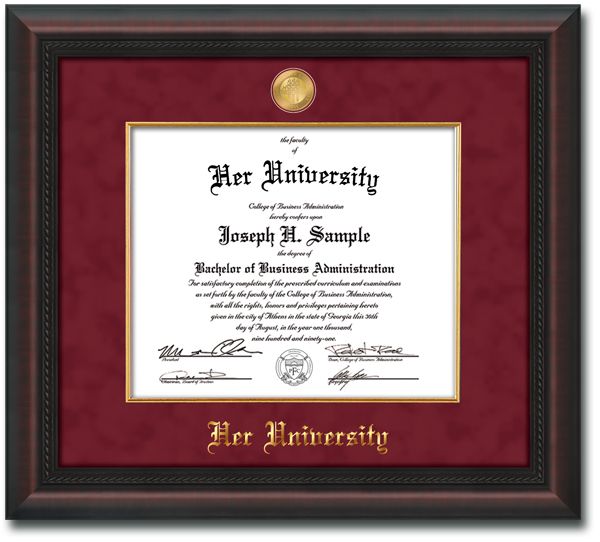 Professional Framing's gorgeous frames (officially licensed by many colleges across the country) are perfect for displaying your grad's gorgeous diploma! The company, which is proudly female-owned, offers options like embossing, 24k gold-plated medallions with the school seal, watercolors of campus landmarks, tassel-holders and more! As a bonus, the long standing company (which has been around for over 25 years) is the only company in the industry using UV protective glass on each frame to prevent fading. It's completely museum quality — down to the acid-free materials to protect your collegiette's accomplishment for years to come! And, you can have it sized exactly to the school's degree in a stunning Italian-milled hardwood molding. Best of all? Get $20 off by visiting their Facebook page! $80-$230
For a Group of Friends

If you have a group to get for, MY M&Ms ® Class of 2012 Graduation Packs are a perfect treat! Get them with a message or photo and pass them out to all your pals. Unfortunately, just like college, these sweets will go by too fast! $36-$42
For the Sentimental Snuggler

After a hard day of work, there is nothing better for your grad to curl up under than a personalized fleece blanket which will bring them warmth physically and mentally with the memories of college. $40
For the Memory Maker

If your graduate still has her cap and tassel from her pre-school graduation, this is the perfect gift for her! The graduation wood keepsake box is the perfect place for her to keep graduation cards, tassels, and programs. $25
For the One Who Never Misses a "Cheers!"

It's a celebration in honor of separation and let's drink to that! Maybe your graduate won't drink this specific bottle of wine, but she will flip for her engraved wine bottle commemorating her graduation. And when she one day has a wine cellar – you know this will be the first bottle on the shelf! $75
For the Joiner

If she has a t-shirt from the last four Greek Weeks, every season of powder puff football, and each on-campus concert, gifting her with the ability to make a custom quilt from her old shirts will put a huge smile on her face! $129-$419

THE NEXT STEPS
For the Nervous Graduate

Lighten her up a little bit by giving your favorite graduate a copy of "WTF?: How to Survive 101 of Life's Worst F*#!-ing Situations." The humorous guide will make life's post-grad hiccups like losing your work presentation a little bit funny. $10
For the Lady

"Classy: Exceptional Advice for the Extremely Modern Lady" by Derek Blasberg is the perfect gift for your friend ready to jump out into adult world and be a lady. She'll learn everything from the classy way to dating, to the perfect etiquette. $10
For the Caffeine Addict

Newsflash: In the "real world" there are no college-bucks funded by a collegiette's parents to keep them full of caffeine at the library coffee shop. It is time for them to drop that expensive coffee habit as you give them a Keurig for a graduation gift so they can make tasty coffee at home, for a fraction of the cost. $80-180
For the Traveler

Everybody needs a good carry-on, and we love the Hideo Jelly Bean Trolley. It's a fun color, lightweight, comes with locks, and is hard-shelled which will keep your stuff from crushing. $185
For the DIY-Girl

Another harsh reality of graduating for collegiettes is not having the hunk down the hall (or an RA) to come fix little things for you on-demand. A landlord is far harder to track down, ugh! Stock your graduate's home with an 83 piece homeowner tool set so that she's ready for anything! $70
For the Pretty Professional

Just because she's an "adult" now, doesn't mean she can't still live life stylishly. This Marc by Marc Jacobs 'Pretty Nylon - Commuter Computer' case will add a little to cheer to the fact she has to bring her work home with her. $128
You Might Also Like...