How she might react.
Moms are known to overreact, especially about their "little girls" growing up. Hearing that you've been intimate with a guy could lead to a number of reactions from joy to tears or even understanding. Remember, however, that she loves you unconditionally and appreciates being tuned in to your life.  
A college woman at James Madison University said: "My mom ended up finding out through my medical records. She definitely wasn't happy, but not angry at me either because she knows how different the world is today when it comes to having a boyfriend, compared to when she was young (plus she's from Thailand and they have very different moral views anyway). But [the fact] that my doctor spilled this information and seeing my mom's look of shock was not fun or reassuring."  
Another college woman said: "The way my mom reacted [to finding out I had had sex] made me feel like I was still a little kid, and it honestly makes me not want to tell her other personal things like if I do start dating a boy. I have a good relationship with my mom, too, we have always openly shared things, but her reaction was disappointing, and it hurt my feelings."  
Contrasting these other incidents is a woman from Wheeling Jesuit University: "I have a boyfriend, and my mom blurted out one day, 'So you're not relying only on him right?' I was confused for a second and realized that she was talking about whether I was on birth control. Her little outburst helped us sit down and talk about my relationship. She let me explain myself and my reasons for sleeping with him, and it was nice to see her listening and agreeing with me! It made me feel like more of an adult."
When that dreaded question comes up, "So have you had sex?" think about how the scenario could play out. Saying "no" would protect you from sharing your dirty secrets, and you can continue your relationship with your mom as it was. And though saying "yes" could lead to both good or bad reactions, try focusing on the positives and on why sharing could be beneficial: your mom may start treating you more like an adult, she could be happy you shared the most sensitive part of your love life with her, and you could now turn to her in a time of crisis (if you're worried you have a UTI, for example, or your monthly gift doesn't come).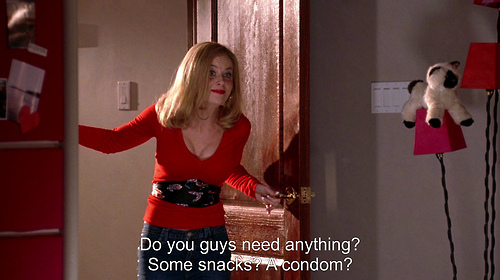 A student from Kent State University definitely found the benefits of sharing with her mom: "After my mom asked the dreaded question, and I answered "yes," she wanted details. I wasn't comfortable sharing too much, but just being honest with her led to my curfew disappearing. She took me shopping at Victoria's Secret, and she told me she wouldn't ask questions like that anymore. Can you say score?"
 
If you know for sure that you would lie to your mom if she asked you about your sex life, but you still want advice, consider talking to a sister, Aunt, or a friend's Mom who you are close to and could also offer a more mature perspective. And no matter how your mom reacts, as long as you are happy and comfortable with your decisions, then that is what's most important.
 
Sources
Anonymous college women from across the country. 
http://www.seventeen.com/health-sex-fitness/special/sex-parents-hsp-0404 
Rachel Maulding, Widener University Doctoral Student of Sexual Education
Pages
You Might Also Like...