You've heard about the risks of texting while driving. But what about texting while walking? Even the most skilled texter has probably had one or two near run-ins with lampposts, walls, or even parking meters (the parking meter one hits close to home). We wander around campus with our thumbs glued to our cell phone keypads, often completely oblivious to both people and inanimate objects around us. While the average texting-related injury does more damage to our ego than to our physical health, sometimes the stakes are much higher. Most phones allow 160 characters in a text message. Out of curiosity, I timed myself to see how long it takes to write a message of this length. The result? 50 seconds. That is more than enough distraction time to do some serious damage. Yikes.
According to an article on msnbc.com, this past July, Alexa Longueira, a 15-year-old Staten Island girl, fell into a manhole while sending a text. The Consumer Product Safety Commission's own list of serious texting injuries includes a girl who fell off her horse while typing a message and another who tried texting and cooking noodles simultaneously, burning a large portion of her body. Even President Obama's aide, Valerie Jarrett, was too occupied by her Blackberry to notice the curb in front of her. She was so distracted by typing that she fell off a curb in Chicago and twisted her ankle. Stories like these may sound extreme, but they are all too true. Fortunately for us, many of the hidden dangers of texting can also be easily avoided. Read on to see what the experts, and some clumsy students, have to say about the new drunk driving: text walking. (No disrespect to the seriousness of drunk driving of course.)
Hidden Danger #1: Neck, Back, Thumbs, and Wrists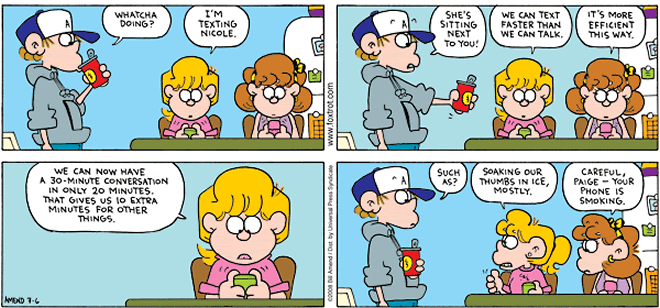 We already text while we're in class, eating dinner, and doing our homework. Now that walking is added to the mix, our poor joints get even less time off, raising the risk of injury. Ever sit with your legs crossed for so long that you have a terrible pain when you stand up? It's kind of the same concept. Dr. Michael Giordano, a central New York chiropractor, anticipates patients coming to his office any day now complaining of texting-related symptoms. "It starts with getting carpal tunnel from typing too much," he says. "Add that to bad posture, [and] then you have two conditions." Giordano also says that cold weather makes muscle strains, like those caused by constantly hunching over a cell phone, even more severe. While the obvious fix is taking a break from typing and dialing a 10-digit phone number instead, this is not a sacrifice that many of us are willing to make. Dana Schwartz, a chiropractor in Long Branch, New Jersey, has some tips for dealing with texting-related pain:
Put your hands together and separate your elbows so it looks like you're meditating
Turn your arms over and put the backs of your wrists together, flexing your wrists
Bend and flex your thumbs a couple of times to work out any stiffness
Hidden Danger #2: Our Egos
Those pesky pedestrians. Don't they realize you're trying to send a text message BEFORE you arrive at your destination? But at least other walkers have the possibility of dodging a distracted texter. Stairs and other such immovable objects are the real culprits. Take Syracuse University student Melissa Dickinson's recent run-in with a flight of stairs on campus. "I started to text my boyfriend, and I ended up missing the second-to-last step and landing on my ankle with it completely sideways," she says. "I sat there stunned for a few seconds, then I stood up and limped my way to a chair." Though Dickinson avoided any severe injuries, her mishap could have been avoided altogether. Even Her Campus writers sometimes fall into the text-walking trap. Here, they share some ego-bruising stories.
"I was rushing to class looking down, texting like a champ, and I physically ran into someone. It turned out to be my ex-boyfriend, who I had not seen since the moment we broke up." - Julie Grauel, Her Campus Contributing Writer
"I was leaving the library one night, and wasn't really paying attention because I was texting a friend. While I was looking down at my phone, I accidentally ran into a 1.5-foot brick wall. Running into the brick border caused my entire body to fall into the garden itself. The pressure of the fall caused my iPhone to break. I had to buy a new phone. Then for the next 2 days I was randomly searching for my wallet, thinking I had left it in the library or a store. Finally I went back to the where I fell, and found it buried in the bushes." - Halle Organ, Her Campus Contributing Writer
Luckily for iPhone users, Apple understands the embarrassment of text-walking injuries and has created an app to make multitasking a bit safer. Itype2Go made the New York Times's list of best tech ideas of 2009. Basically, whatever your phone camera sees in front of you is also shown on your iPhone screen while you type. The program works with Facebook and Twitter too, so your next status update won't be, "[insert name] just walked into a street sign while texting." Now that's a dollar well spent!
Hidden Danger #3: No Text Message is Worth Your Life
If you must text while in motion, just remember that there are a few times where taking a break is absolutely necessary. According to United Press International, Illinois is currently considering a law to ban texting while walking across an intersection. If the law goes into effect, pedestrians will risk a misdemeanor and a fine of $25. But these penalties exist for the purpose of saving lives. More than one death has been reported as a result of a distracted text-walker. As seen in this CBS News video, the all-too-common trend is not worth your life.
Tips for the Guilty
For those of you reading this and thinking, "wow, this article totally sums up my life," there's hope for you, too. Tweaking your texting regiment ever-so-slightly may be all it takes to save your thumbs, ego, and maybe even your life.
While in transit, turn your phone off, or at least put it on silent. Cutting yourself off from that "beep" of temptation could be all it takes.
Use those ten minutes between classes to call up mom or grandma just to check in. Your thumbs will thank you AND you have the perfect excuse to end the convo quickly... "sorry mom, can't talk about my grades right now, gotta get to class. Love you, bye."
Walking with a friend? Trade phones and promise not to give them back until you arrive. Maybe now you two can actually LOL together.
Sources:
http://www.upi.com/Odd_News/2008/07/29/Text-messaging-mania-takes-to-the... http://www.nydailynews.com/news/2009/07/11/2009-07-11_shes_texting_but_t... http://www.sajd.org/articles/texting-dangers-risk-increases.htm http://www.msnbc.msn.com/id/25935217/ .http://latimesblogs.latimes.com/booster_shots/2009/11/hunched-over-their... http://www.nytimes.com/2009/12/31/technology/personaltech/31pogue.html?_... Front image: Textually.org
You Might Also Like...