Being veg can be tough. It can be great for your body and an impressively moral decision, but nobody wants to live off of nothing but tofu and vegetables for the rest of their lives, am I right? Eating the same old stuff gets boring, and things can get even trickier when your choices are limited by a lack of meat. But never fear! Here are seven vegetarian recipes for you to try. And guess what: they're all delicious!
Dakota Smashed Pea and Barley Soup
Recipe courtesy of food.com
Ingredients
1 lb dried split peas, sorted and rinsed
1/2 cup pearl barley
2 quarts water
2 bay leaves
Salt, to your liking
1 tablespoon soy sauce
1 tablespoon fresh thyme, chopped (or 1/2 tablespoon dried)
2 teaspoons garlic, minced
1/2 teaspoon dried sage
1/8 teaspoon cumin, ground (can be substituted with chili powder)
1 1/2 cups carrots, diced
2/3 cup onion, minced
1/3 cup celery, finely diced
1/4 cup scallion top, thinly sliced
Directions
In a large pot or saucepan, combine the first 10 ingredients. Bring to a boil over high heat. Reduce the heat to a simmer, cover, and cook for 1 hour, stirring occasionally.
Stir in the carrots, onion, and celery. Cover and simmer until the vegetables are tender, about 20-30 minutes more. Discard the bay leaves. Ladle into bowls and garnish with the scallion greens.
Black Bean, Corn & Avocado Salad Over Red Quinoa With Cilantro Dressing
Recipe courtesy of karmatarian.wordpress.com
Ingredients
Salad
2 cups vegetable broth
1 cup red quinoa, cooked in vegetable broth (above)
1 15 oz can black beans, drained and rinsed (half or whole can)
1 cup frozen sweet corn kernels, thawed
1/2 avocado, cut into 1/2 inch pieces
1 cup grape tomatoes, halved
1/4 – 1/2 cup red onion, finely diced
Olive oil- Anywhere from a drizzle to 1/8 Cup
Zest of 1/2 Lime
Optional: 1/2 bunch of Cilantro, chopped
Sea Salt and Pepper
Chopped cilantro for garnish
Cilantro Dressing
1/3 cup olive oil
2 tablespoons chopped cilantro
3 tablespoons white wine vinegar
1/2 teaspoon salt
1/4 teaspoon ground cumin (can be substituted with chili powder)
Squirt of agave nectar
Directions
Salad
Cook quinoa with broth according to package directions.
While quinoa is cooking, combine beans, corn, avocado, tomatoes and onion. Top with cilantro dressing (directions below) and toss gently. Add salt, pepper and lime zest to taste. Add 1/2 of the chopped cilantro if desired, and gently toss once more and set aside.
When quinoa is cooked, spread evenly onto a large platter and top with the bean mixture. Garnish with chopped cilantro if desired. 
Cilantro Dressing
Place all ingredients in a container with a tight-fitting lid and shake. Adjust to taste.
Tortilla Lasagna
Recipe courtesy of vegetariantimes.com
Ingredients
6 8-inch fat-free flour tortillas
1 tablespoons olive oil
1 small onion, chopped (1 cup)
2 tablespoons chili powder
2 teaspoons ancho chile powder
2 cloves garlic, minced (2 tsp.)
2 cups strained tomatoes, divided
1 ½ cups cooked black beans, or 1 15-oz. can black beans, rinsed and drained
1 medium chayote, peeled and diced, or 2 medium zucchini, diced (1½ cups)
½ cup fresh or frozen corn kernels
1 ½ cups grated Monterey Jack or pepper Jack cheese
Directions
Preheat oven to 350°F. Toast tortillas on two baking sheets in the oven for 5 minutes or until light brown, turning once.
Heat oil in saucepan over medium heat. Add onion and sauté 5 minutes or until soft. Stir in chili powder, ancho chile powder and garlic, and cook for 30 seconds. Add 11/2 cups strained tomatoes, beans, chayote, corn, and 1/2 cup of water, and season with salt and pepper if desired. Cover and cook 10 minutes or until chayote is tender.
Coat a 2-inch-deep x 8-inch round baking dish with cooking spray. Spread 1/4 cup strained tomatoes in the bottom of the pan. Set 1 toasted tortilla in the pan; top with 3/4 cup bean mixture and 1/4 cup cheese. Repeat layering 4 more times. Top with last tortilla, and spread remaining 1/4 cup strained tomatoes over top. Sprinkle with remaining 1/4 cup cheese.
Bake 30 to 45 minutes or until the casserole is bubbly and the cheese has melted.
Let stand 10 minutes before cutting into 8 wedges.
Chickpea-Sweet Potato Burgers With Dilly Cucumbers
Recipe courtesy of self.com
Ingredients
1 1/4 cups dried chickpeas
Olive oil cooking spray
3 tablespoons tahini (can be substituted with sesame seed oil, ground sesame seeds, or any nut butter)
1/4 teaspoon freshly ground black pepper
1/4 teaspoon baking powder
1 teaspoon kosher salt, divided
1 small sweet potato, peeled and grated
1 medium cucumber, peeled and thinly sliced
1/2 small red onion, thinly sliced
1/4 cup chopped fresh dill (can be substituted for basil)
2 tablespoons rice vinegar
Directions
In a bowl, soak chickpeas in 4 cups water for at least 12 hours and up to 24; drain well.
Heat oven to 375°. Coat a baking sheet with cooking spray.
In a food processor, process chickpeas, tahini, black pepper, baking powder and 3/4 tsp salt, scraping down sides as necessary, until mixture holds together when pinched, 2 minutes. Then transfer to a bowl. Stir in sweet potato.
In a second bowl, combine cucumber, onion, dill, vinegar and remaining 1/4 tsp salt. Set aside.
Form chickpea–sweet potato mixture into 4 burgers; place on baking sheet; cover tightly with foil; and bake for 20 minutes. Remove the foil; coat burgers with cooking spray; bake until crisp and golden underneath, approx. 20 to 25 minutes. Flip the burgers; coat with cooking spray; and bake until crisp on the other side, about 10 to 15 minutes. Serve burgers with the dilly cucumbers.
California Grilled Veggie Sandwich
Recipe courtesy of allrecipes.com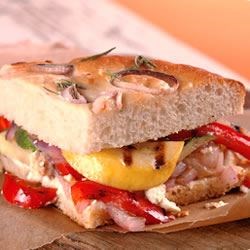 Ingredients
1/4 cup mayonnaise
3 cloves garlic, minced
1 tablespoon lemon juice
1/8 cup olive oil
1 cup sliced red bell peppers
1 small zucchini, sliced
1 red onion, sliced
1 small yellow squash, sliced
2 (4-x6-inch) focaccia bread pieces, split horizontally
1/2 cup crumbled feta cheese
Directions
In a bowl, mix the mayonnaise, minced garlic and lemon juice. Set aside in the refrigerator.
Preheat the grill for high heat.
Brush vegetables with olive oil on each side. Brush the grill or frying pan with oil. Place bell peppers and zucchini closest to the middle, and set onion and squash pieces around them. Cook for about 3 minutes, turn, and cook for another 3 minutes. The peppers may take a bit longer. Remove and set aside.
Spread some of the mayonnaise mixture on the cut sides of the bread, and sprinkle each one with feta cheese. Place on the grill or pan cheese side up, and cover with lid for 2 to 3 minutes. This will warm the bread, and slightly melt the cheese. Watch carefully so the bottoms don't burn. Remove from grill, and layer with the vegetables. Enjoy as open-faced grilled sandwiches.
Cauliflower Pizza
Recipe courtesy of pinchingyourpennies.com
Ingredients
1/2 head of cauliflower
2 cups shredded cheese
1 egg
Italian seasonings (oregano, parsley, fresh garlic and onion are recommended)
Pizza sauce or marinara sauce of your choosing
Toppings of your choosing
Directions
Grate cauliflower. If you're using a food processor, use the grater blade because you don't want it to become pureed, just shredded. Place the grated cauliflower into a medium microwave-safe bowl and microwave for 6-8 minutes until the cauliflower is soft but not mushy.
While the cauliflower cools off (you can put it in the freezer to cool it quickly), preheat the oven to 450 degrees and prepare a cookie sheet or pizza pan by spraying it with cooking spray. This is also a good time to prepare your toppings.
To the cauliflower, add 1 cup of shredded cheese and spices and combine. Add egg and mix well with your hands. Press the crust onto a pan and shape into a 9-12″ pizza pan. Spray the top of the crust with cooking spray or brush with oil.
Bake the crust for 15-20 minutes or until golden brown. When you pull out the pizza, turn your oven to broil.
Add your toppings, including 1 cup of cheese, and put the pizza under the broiler for 3-5 minutes. Broil it long enough to melt the cheese and caramelize the toppings a bit.
Hearty Vegetable Lasagna
Recipe courtesy of allrecipes.com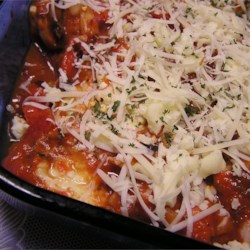 Directions
1 16-ounce package lasagna noodles
1 pound fresh mushrooms, sliced
3/4 cup chopped green bell pepper
3/4 cup chopped onion
3 cloves garlic, minced
2 tablespoons vegetable oil
2 26-ounce jars pasta sauce
1 teaspoon dried basil
1 15-ounce container part-skim ricotta cheese
4 cups shredded mozzarella cheese
2 eggs
1/2 cup grated Parmesan cheese
Directions
Cook the lasagna noodles in a large pot of boiling water for 10 minutes, or until al dente (when the pasta is firm, but not too hard). Rinse with cold water and drain.
In a large saucepan, cook and stir mushrooms, green peppers, onion, and garlic in oil. Stir in pasta sauce and basil; bring to a boil. Reduce heat, and simmer for 15 minutes.
Mix together ricotta, 2 cups mozzarella cheese, and eggs.
Preheat oven to 350 degrees. Spread 1 cup tomato sauce into the bottom of a greased 9x13 inch baking dish. Layer 1/2 each of lasagna noodles, ricotta mix, sauce, and Parmesan cheese. Repeat layering and top with remaining 2 cups mozzarella cheese.
Bake, uncovered, for 40 minutes. Let stand 15 minutes before serving.
Now you can tempt even your most carnivorous friends into eating a vegetarian meal! Happy cooking!
You Might Also Like...