Congratulations to all the lucky winners of our Cupid's Care Package Giveaway. Check the Deals & Steals homepage to see if you have won, you have one week to claim your prize!
Even the most anti-Valentine's Day collegiette™ will fall in love with our Cupid's Care Package. It has tons of our fave gifts from our Valentine's Day gift guide. Whether you're planning on giving these HC must-haves to your friends or keeping them for yourself (hey, no one said that you can't be your own Valentine…), this giveaway is sure to make you "heart" V-Day. Pictures of all prizes can be found on our pintrest board!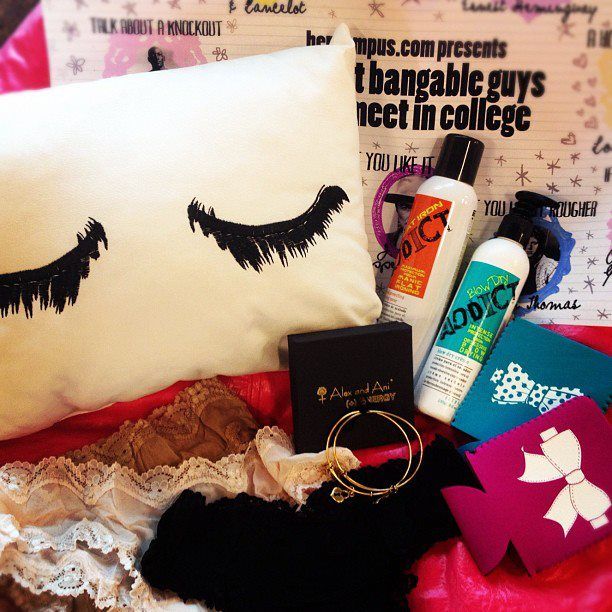 The winner receives:
     ·     The "Key to my Heart" Expandable Bangles make a perfect couple when paired with the "Skeleton Key" set from Alex and Ani. We love how they have a major V- Day vibe, but are still stylish enough to wear year round. 
     ·     Blow Dry Addict and Flat Iron Addict hair products from Zotos. Frizzy hair will make even the most romantic date a mess. These products give you major frizz-control and reduce breakage by up to 87%!
     ·     An assortment of Dormify products. We're giving away the Indie Cred pillow, the Shut Eye pillow, the #nbd Pillow, the Love Me Or Leave Me pillow case set, and the Love Me or Leave Me shower curtain. Yup, winners will get get one of these amazing Dormify items to make their apartment or dorm go from drab to collegiette™ chic.  
     .     The Her Campus Classy Koozie Couple. You know, so you and your guy can instantly become the classiest at any party.
     ·     Packaged Panties by Affinitas Intimates. What we love about these panties (which come available in both hipster and thong styles) is how they're just the right mix of cute and sexy. They're One Size (fits most 0-8) and come in a 4'' x 4'' pack of three, which means they're perfect for throwing in your gym bag or stashing in an overnight bag.
     ·      The Her Campus "Man Poster" 3-Pack. Valentine's Day isn't all lovey-dovey, ladies. These posters prove that this holiday can be totally hilarious. The winner of the Cupid's Care Package will receive one Web of Hookups poster, one 100 Reasons He's Not Texting You Back poster, and one Most Bangable Guys poster. Give one to each of your best girlfriends or, you know, keep them for your own viewing pleasure.
All winners have been announced, please check to see if you were one of the lucky ladies!
You Might Also Like...