Kylie Jenner Swears by These 8 Brow Products
Kylie Jenner knows that her personal beauty look and routine is highly sought after. Part of the reason that her brand, Kylie Cosmetics, is so popular is that her influence and impact on the beauty world were already huge before she even launched her brand. If you want lips like Kylie's, she encourages you to reach for one of her sometimes controversial lip kits ($29 at Kylie Cosmetics) and if you want one of her intricate, professional-looking smokey eye looks, she wants you to grab one of her Kyliners ($26 at Kylie Cosmetics).
Recently on her app, Kylie divulged some of her secrets to get her sculpted, immaculate brows. This time, however, her solution wasn't a personally-branded product. Jenner revealed eight products that you can be guaranteed to find in her own makeup bag, which help her get the brows of your dreams.
This product in Medium Brown is Kylie's "go-to." The pencil is precise enough to create thin strokes that can imitate the look of your real brow hairs. Whether you simply need to fill in a few sparse areas, or your brows need a lot of work to be Instagram-worthy, this pencil should be your ride-or-die as well.
2. Retractable Brow Pencil - Waterproof ($12 at Sephora) 
This Sephora Collection pencil is a more affordable alternative to the ABH option listed above. Since it comes in seven different shades, you're likely to find your perfect match.
3. L'Oréal Brow Stylist Definer ($8.99 at Ulta)
A 4.5 star rating on Ulta promises that this pencil will make your brows defined and precise. On fleek, if you will.
4. Brow Perfector ($24 at Nars)
Like the other brow pencils listed above, this one, produced by the luxury brand Nars, promises to give your brows a velvety, long-lasting finish. While I've never had the desire for my brows to appear velvety, it does sound appealing.
5. Professional Eyebrow Pencil ($4 at Rimmel London)
 Available in three shades, this drugstore pick has great reviews, and gives us high hopes; especially considering its steal of a price.
6. Gimme Brow Volumizing Fiber Gel ($24 at Sephora)
This brow gel is perfect for those low-maintenance days when you don't feel like spending twenty minutes fussing with a pencil for Insta-worthy brows. With just one swipe, your brows will instantly appear fuller and frame your face better.
7. Eye Brow Pencil ($24 at Laura Mercier)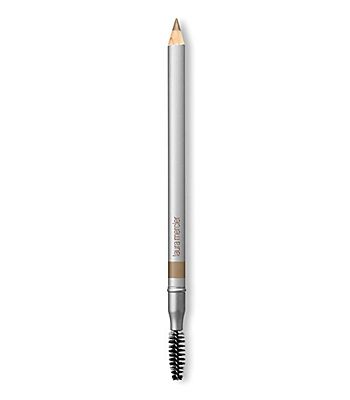 This pencil boasts a natural-looking brow effect. Since the brand, Laura Mercier, is known for its products that assist in creating natural, perfect-looking beauty, this claim seems fitting! That said, its 2-star rating may mean you should stick to Kylie's more popular choices.
8. NYX Cosmetics Automatic Eyebrow Pencil ($4.99 at Ulta)
We love that Kylie included drugstore, and cheaper alternatives. Even this beauty mogul and millionaire teen knows that a good beauty buy doesn't always need to cost a lot.